What is HP Quality Center?
Quality Center is a Test Management tool to manage and control Quality Assurance and testing process for an organization. It is also known as Application Life Cycle Management Tool (ALM). Initially HP Quality center used to be called as Mercury Test Director.
Quality Center also supports for Project Planning and Tracking, Release Management and Asset Sharing for requirements management through application delivery. It also use full to gauge the current status of the product. This can be integrated with automated tools like Win runner, QTP, Load runner so that it can become fully automated application testing.
A bit history of QC:
Mercury interactive is base company and then HP is vendor of QC right now
| | | | |
| --- | --- | --- | --- |
| S.No | Name | Version | Owned By |
| 1 | Test Director | First Version QC v1.52 to v8.0 | Mercury Interactive |
| 2 | Quality Center | v8.0 to v9.0 | Mercury Interactive |
| 3 | Quality Center | v9.2 to v10.0 | Hp |
| 4 | ALM | v11.0 to v11.5x | Hp |
Why should you use Quality Center?
ALM help's in project management, from requirements to deployment easy. Central repository helps in manage project and creates a framework to increases predictability.
It helps to drive collaboration among development teams, quality functions and business analysts. Operating from one test management platform standardizes requirements definition and management, release and builds management, test scheduling and planning, and defects reporting and tracking - all with complete traceability.
Allows resources to link requirements to test plans.
Ensures that applications function as expected, even when performed under variable consumption loads.
Better analysis and management.
Coherence of different tasks.
Easier to track
Architecture of QC:
Quality Center is an enterprise-wide application that is built on Java 2 Enterprise Edition (J2EE) technology and uses MS SQL Server or Oracle as its back end.
The QC Client/Server architecture is 3-tier architecture (application server, web server, database server). They consist of:
Client application: Quality Center front end GUI can be accessed through web browser. QC also expose API so that other application can communicate with it.
Web server: HTTP protocol is used for communication between client and server in QC
Application server: Quality Center has default installation of JBOSS. Java and J2EE application server are the main source of QC. J2EE platform is suites well for client/server application over the Internet.
Quality Center application: developed to be executed on J2EE application servers.
Database Server: Quality Center information is stored in the database. There is two different Databases for hosting Site Administration and project related data.
HP ALM Editions:
HP ALM is a commercial licensed tool and has 4 different editions that are listed below.
HP ALM

Edition

Description

HPALM

It is unified platform for managing and automating processes, testing, activities and assets for building, delivering and maintaining applications.

HP ALM helps in maintaining organizations drive consistent processes, asset sharing across projects and shared best-practices.

It has modules for requirement, defect and development management, test and project planning and release.

HP ALM

Essentials

Edition

HPALM helps smaller team set and run subset of HPALM product functionality. It also has functionality for management of requirement, test and defect.

HP Quality

Center

Enterprise

Edition

It is part of HP ALM. It gas integration with HP Unified Functional Testing, HP Sprinter and HP Business Process Testing.

HP

ALM

Performance

Center

Edition

It consists of functionality for complete management, running, scheduling and monitoring of performance test scripts. It integrates with HP Load Runner and HP ALM.
ALM Edition Feature Comparison:
ALM functional has its own limitation in terms of above edition. Below tables shows the license required for each project phase.
| | | | | |
| --- | --- | --- | --- | --- |
| Functionality | HP ALM | HP ALM Essentials | HP QC Enterprise Edition | HP ALM Performance Center Edition |
| Release Management | Yes | Yes | Yes | Yes |
| Project Planning and Tracking | Yes | No | No | No |
| Risk Based Quality Management | Yes | No | Yes | No |
| Test Authoring and Execution | Yes | Yes | Yes | Yes |
| Test Configurations | Yes | No | Yes | Yes |
| Test Resources | Yes | Yes | Yes | Yes |
| Multiple Requirement Types | Yes | No | Yes | Yes |
| Sharing Requirements | Yes | No | No | Yes |
| Requirement to Requirement traceability | Yes | No | Yes | Yes |
| Versioning | Yes | No | Yes | Yes |
| Base lining | Yes | No | Yes | Yes |
| Lab Management | Yes | No | No | Yes |
| Hp Sprinter | Yes | No | Yes | No |
| Cross Project Customization | Yes | Yes | No | Yes |
| Sharing Defects | Yes | No | No | No |
| Excel Reporting | Yes | Yes | Yes | Yes |
| Business Process Testing | Yes | Yes | Yes | No |
| Upgrading Editions | No | Yes | Yes | Yes |
Quality Center Workflow:
Below diagram show's detailed Quality Center workflow: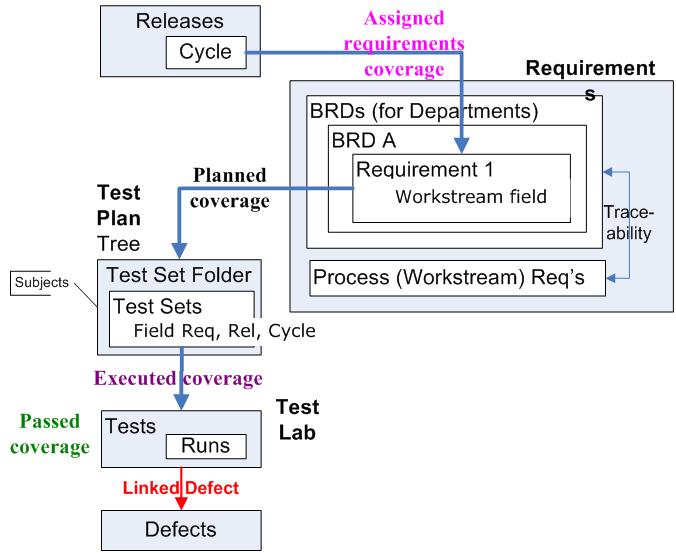 The quality center has following basic modules.
Releases
Requirements
Test Plan
Test Lab
Defects
Additional modules
Business components
Dash board
Description
Contents of this tutorial includes parts below
What id HP Quality Center
Environment Set up
Configurations on Server Side
Getting to know some commonly used features
Management Tab
Requirements
Test Plan
Test Lab
Integrating QTP with QC
Defects
Dashboard Analysis
Customization
This tutorial is to the point effort to quickly get you started with HP quality center.
Audience
Students looking to get started with HP Quality Center
Learning Objectives
Quickly familiarize yourself with HP Quality Center
Author: Subject Coach
Added on: 23rd Mar 2015
You must be logged in as Student to ask a Question.